Perform quantitative analysis on TLC plates in minutes.
Automatically detect and truly compare chromatograms in three dimensions.
Compare data from spots and plates.
Group and average plates for increased statistical reliability.
Display graphs and store TLC plates in projects.
Export data into Excel or other third party software for further custom analysis.
Print graphs, plates and data sheets.
Aids compliance with FDA 21 CFR Part 11.
Lane (Band) Analysis
In JustTLC it is easy to detect and quantify lanes. Even bent or nonvertical lanes are a simple task for the built in optimized image analysis algorithms.
Spot Analysis
JustTLC includes a highly reliable and accurate spot detection and quantification algorithm. In a few clicks TLC spots are measured and easily comparable via the straight forward user interface.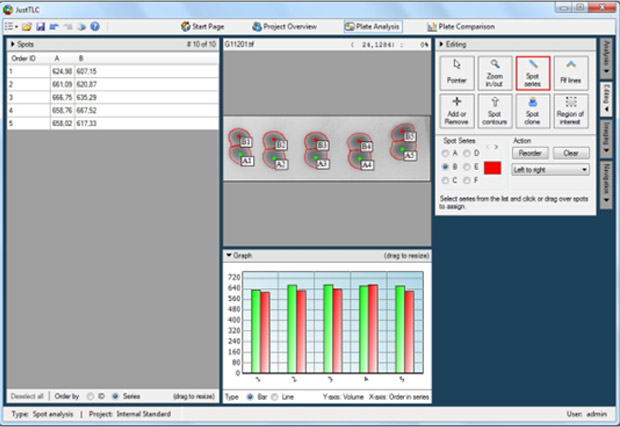 Spot analysis in JustTLC, showing spot table, image and comparison graph.

In JustTLC it is possible to include serveral plates in one project, making it possible to visualize complex data relations in a comprehensive interactive overview.
Inbuilt FDA 21 CFR part 11

Accurate and complete copies of records
Protection of records
Limiting system access
Computer-generated audit trail
Authority checks
Device checks
Education and training of personnel
Personnel accountability
Control of documentation
Electronic signature contents
Electronic signature linking to records
Unique electronic signatures
Identity verification
Certification of electronic signature use
Unique identifications and passwords
Password aging
Loss management
Transaction safeguards